Posts for tag: whitening
By Dental Health Services
June 17, 2014
Modern dentistry has given patients more opportunities to improve the appearance of their smiles. To improve the color of teeth, teeth whitening is an option, and it's one that many people take advantage of. To put a modern touch to your smile for that summer vacation or weekend getaway with friends, try out a teeth-whitening session.
Professional Teeth Whitening: What's the Big Deal?
The procedure isn't a big deal. It's actually a short and simple procedure that offers long-term benefits, such as whiter teeth that lasts for weeks.
It's true that over-the-counter whiteners and toothpastes can lighten your tooth shade over time, but it won't rid your teeth of all external stains. Professionals provide stronger whitening agents, not stores.
What Can One In-Office Teeth Whitening Procedure Do?
You can see results after one 30-60 minute treatment. Unless you have severely stained teeth, one application of whitener can lighten the teeth by 3 shades or more.
Maintaining your new shade is up to you. Future appointments could be made, or you can continue to use over-the-counter whitening toothpaste to help buff out new stains.
Are you ready to brighten your day and smile? Let us know early in the week if you want to
schedule a whitening session
at our Wyomissing dentist office. Our main line is (610) 373-3720.
By Dental Health Services
September 23, 2013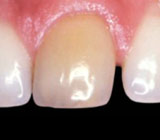 Root canal treatments are an important method for stopping the disease process within an infected tooth and ultimately saving it. However, one of the few side effects could have an aesthetic impact on your smile. Leftover blood pigments or the filling materials themselves can cause a darkening of the tooth — the tooth could eventually stand out in an unsightly way from surrounding teeth.
There is, however, one possible solution: a whitening technique known as internal or non-vital bleaching can lighten a darkened, non-vital tooth. For this procedure, we would insert a bleaching mix (usually sodium perborate mixed with hydrogen peroxide) into the pulp chamber of the darkened tooth for a short period of time. The chemical reaction of the mix whitens the tooth from within.
Our first step is to make sure by x-rays that the root canal filling in the tooth is still intact and still has a good seal. We then create a small opening in the rear of the tooth just above the root canal filling, irrigate it with water to remove any debris, and then add a special cement at the point where the root canal filling begins to seal it from any leakage of the bleaching solution into the root canal filling.
We then insert the bleaching solution into the empty pulp chamber. This is covered with a cotton pellet, which is then sealed in with a temporary filling. We repeat this application over a number of days until we see a noticeable change in the tooth color (normally after one to four visits). At this point, we would remove any residual solution and apply a permanent filling to seal the tooth.
This procedure can be performed instead of more extensive procedures such as veneers and crowns as a cover for the discolored tooth, or as a way to lighten teeth before applying a veneer or crown to help prevent discoloration from showing through. Either way, non-vital bleaching can help remove unsightly discoloration and restore vibrancy to your smile.
If you would like more information on internal or non-vital bleaching, please contact us or schedule an appointment for a consultation. You can also learn more about this topic by reading the Dear Doctor magazine article "Whitening Traumatized Teeth."